Since our
last big site update
, we've been working on improving the look and feel of Lingro's front page. We put the newest batch of changes online earlier this week - here's a picture of the new section of the front page: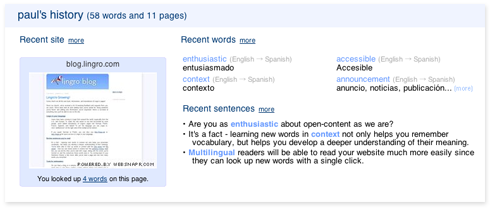 After you've visited a site through the web viewer, you'll see a summary of your recent activity on the front page along with links to your complete Lingro browsing and word lookup history. If you haven't looked up words on any pages through Lingro, you'll see a sample of recently looked-up words by other users.
These additions should make it easier for new users to learn about how Lingro can help you learn new vocabulary by showing the words you've looked up along with their context.
Is there anything else you'd like to see on the main page?
Send us a message
or leave a comment!
Peace,
The Lingro Team